ANALIZA SADRŽAJA I ELEMENATA KULTURE U UDŽBENIKU ZA ENGLESKI JEZIK PIONEER
Radmila R. Suzić

Univerzitet Singidunum Poslovni fakultet u Beogradu – Anglistika
Сажетак
Ovaj rad se bavi analizom i procenom prisutnosti elemenata anglofone, domaće (lokalne) i međunarodne kulture u udžbeniku za engleski jezik – Pioneer B2, MM Publications (2015). Metodom analize sadržaja udžbenika, teme kao što su umetnost, muzika, istorija, književnost, običaji, geografija, sport i slobodno vreme dele se u jednu od tri kategorije, anglofona, domaća ili međunarodna kultura, koje se potom dalje tumače u svetlu elemenata površinske ili dubinske kulture. Kao velika prednost udžbenika ističe se širok raspon savremenih tema i interkulturalnih sadržaja što nesumnjivo doprinosi jačanju interkulturalne kompetencije učenika, a prisustvo elementa dubinske kulture drugih nacija podstiče razvoj globalne svesti. Nedostatak ovog udžbenika ogleda se u odsustvu elemenata ciljne kulture na oba nivoa. Autentični materijali nisu sastavni deo sadržaja, te su na taj način učenici uskraćeni za izvorne jezičke materijale koji bi im mogli omogućiti da ostvare dodir sa segmentima stranog jezika koji će im biti potrebni u daljem obrazovnom i profesionalnom angažovanju.
Преузимања
Подаци за пруезимање нису доступни
Референце
Alptekin, C. (2002). Towards intercultural communicative competence in ELT. ELT Journal 56 (1): 57–64.

Azizifar, A., Koosha, M., Lotfi, A. (2011). An Analytical Evaluation of Iranian High School ELT Textbooks from 1970 to the present. The Journal of Asia TEFL 8 (1): 87–109.

Byram, M., Grundy, P. (2003). Context and Culture in Language Teaching and Learning. Clevedon: Multilingual Matters Ltd.

Byram. M., Fleming, M. (1998). Language learning in intercultural perspective: Approaches through drama and ethnography. Cambridge: Cambridge University Press.

Ellis, G. (1996). How culturally appropriate is the communicative approach? ELT Journal 50 (3): 213–128.

Gardener, R.C. (1985). Social Psychology and Second language learning: the Role of Atttitude and Motivation. London: Edward Arnold.

Glišović, I. (2014), Autentičan jezik u nastavi stranih jezika na nefilološkim fakultetima, Tematski zbornik radova Univerziteta u Nišu: Jezik, književnost i kultura 4: 236–247.

Hinkel, E. (2001). Building awareness and practical skills to facilitate cross-cultural communication, in Teaching English as a second or foreign language, ed. M. Celce Murcia (Boston, MA: Heinle Cengage Learning): 443–459.

Jenkins, J. (2000). The Phonology of English as an International Language. Oxford: Oxford University Press.

Karimpur, A. (2000). Iranian EFL Learners' Attitudes Towards British and American English and their Effect on Their Listening Comprehension, prema Ahmad H., Shah S. R. (2014). EFL textbooks: exploring the suitability of textbook contents from EFL Teachers' perspective. VFAST Transactions on Education and Social Sciences (2) 1: 87–95.

Ketabi, S., Shoomossi, N. (2007). A critical look at the concept of authenticity. Electronic Journal of Foreign Language Teaching 4 (1): 149‒155.

Kramsch, C., Sullivan, P. (1996). Appropriate pedagogy. ELT Journal 50 (3): 199–212.

McKay, S. L. (2004). Western Culture and the Teaching of English as an International Language. English Teaching Forum Online 42 (2): 10–15.

Sardi, C. (2002). On the Relationship between Culture and ELT. Studies about Languages 3: 101–107.

Seidlhofer, B. (2001). Closing a conceptual gap: the case for a description of English as a lingua franca. International Journal of Applied Linguistics 11: 134–158.

Skopinskaja, L. (2003). The role of culture in foreign language teaching materials: an evaluation from an intercultural perspective, in Incorporating intercultural communicative competence in language teacher education, ed. I. Lázár (European Centre for Modern Languages: Council of Europe Publishing): 39–69.

Starks, D., Paltridge, B. (1996). A note on using sociolinguistics methods to study non-native attitudes towards English. World Englishes 15 (2): 217–224.

Steiner, S. F., Nash, C. P., Chase, M. (2008). Multicultural Literature That Brings People Together. Reading Teacher 62 (1): 88–92.

Suzić, R., Radić-Bojanić, B. (2018) ; Elementi anglofone kulture u udžbenicima na tercijarnom nivou obrazovanja (FCE i CAE). Jezici i kulture u vremenu i prostoru 7 (1), ur. S. Gudurić, B. Radić-Bojanić (Novi Sad: Filozofski fakultet): 513–522.

Tomlinson, B. (2008). English Language Learning Materials: A Critical Review. London: Continuum.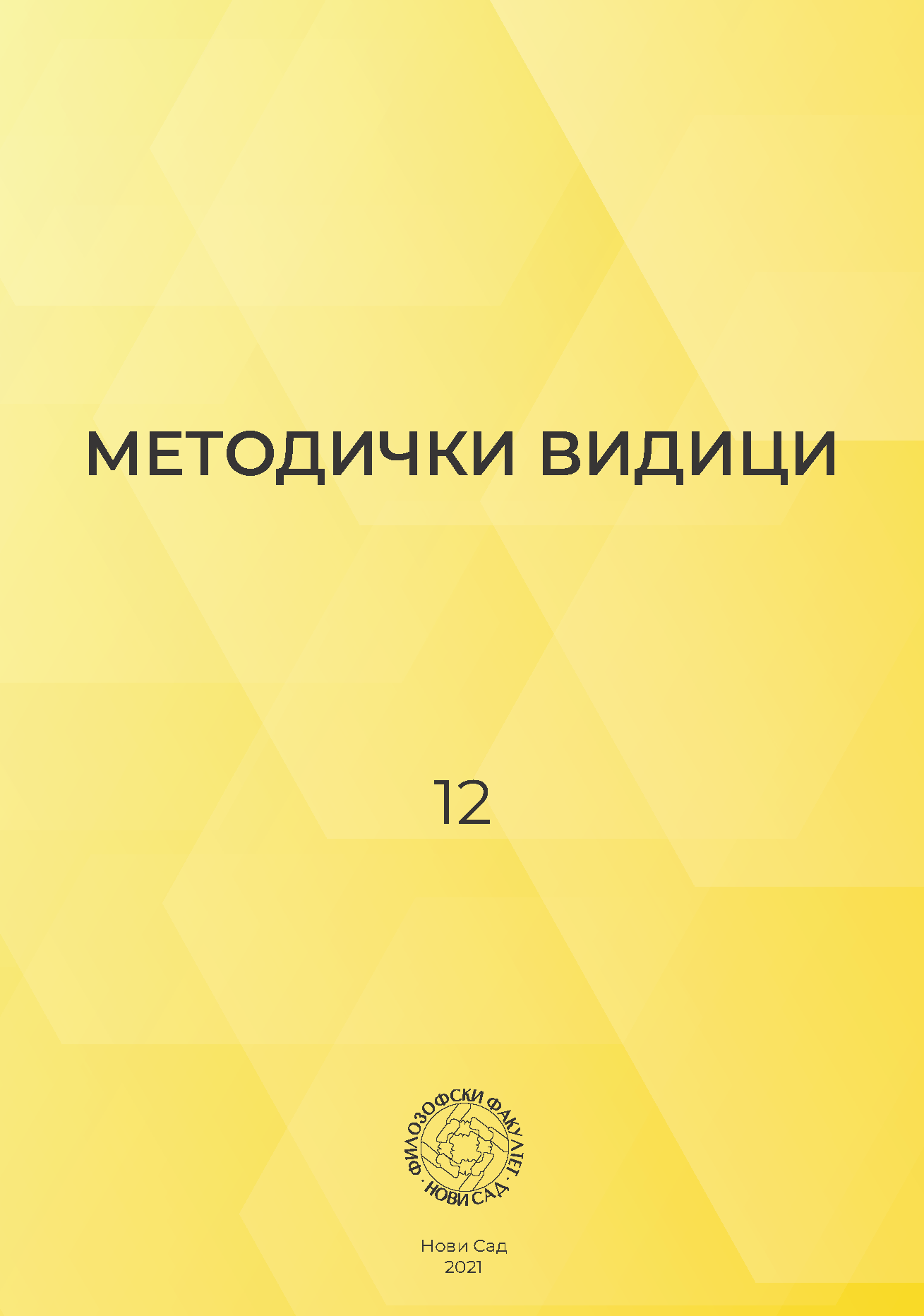 Секција
НАСТАВА СТРАНИХ ЈЕЗИКА, КЊИЖЕВНОСТИ И КУЛТУРА